Hi Friends,
As a Certified Studio 180 Instructor, I head south to the United States once a year to meet with Debbie Tucker and other Certified Instructors. This year, we met in Raleigh, North Carolina. I had thought about flying, but looked at my various bags, my sewing machine, box of Tucker tools, then considered the possibility of cross-border fabric shopping, and decided to drive. So, on March 18th, I packed up my vehicle and began a solo 18-hour drive to Raleigh.
On the first day, I stopped in Guelph to visit with my daughter and do a bit of shopping. Full of unique boutiques and restaurants, Downtown Guelph is a great place to spend the afternoon. We had a fun time shopping in Coriander and Pod and then enjoyed a delicious, healthy lunch at Rawlicious.
The second day of my trip took me across the border at Buffalo and all the way down to West Virginia. I always find driving in the US rather enjoyable – the highways are free of huge potholes, I encountered no snowstorm or blinding whiteouts, the scenery was breathtaking, and the gas was cheap! Particularly memorable was driving in a tunnel straight through a mountain, twice!
But, before getting too far into my story, I want to tell you about a little tradition I've started. A good friend of mine, who is also a very talented quilter, recently gifted me a beautiful bag. Read more about this bag here. Since receiving it, I've begun to take this bag on all of my quilting adventures. Here is a picture of the bag in Fairmont, West Virginia…
Arriving at the hotel in Raleigh on the third day, I was immediately greeted by the friendly faces of other Certified Instructors that arrived before me. Click through the gallery below to see pictures from my week, including new patterns by Katrina Thomas.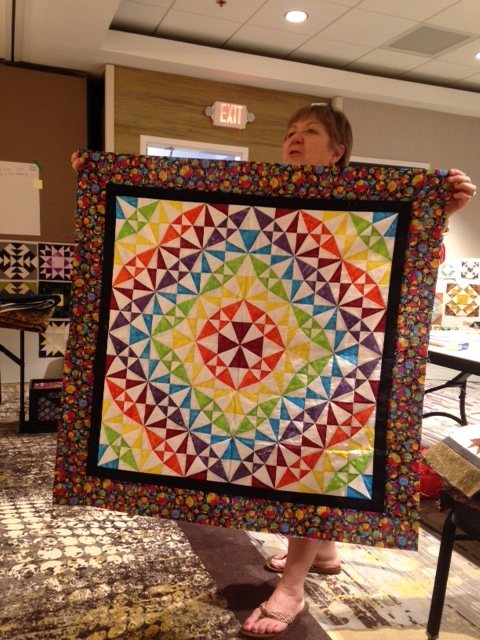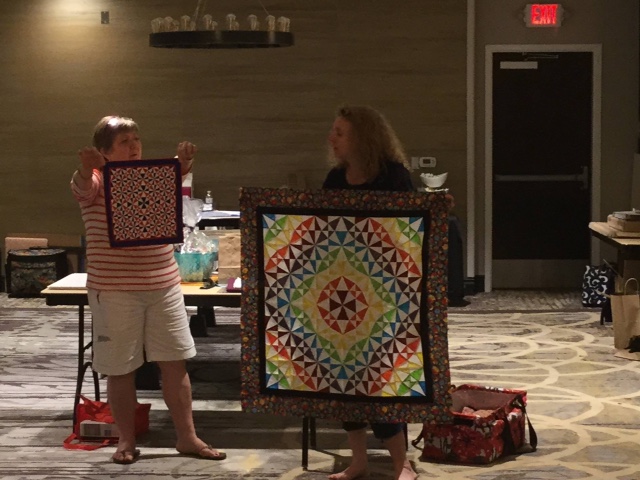 I also want to say a special hello to Michelle Hiatt, the creative brain behind the Modern 180 pattern series and a phenomenal quilter. After over a year of chatting back and forth on Facebook, it was good to finally put a face to a name. Here's to many more years of collaboration with this phenomenal quilter!
During the week, our days were filled to the brim sharing ideas and patterns, troubleshooting problems, and brainstorming new techniques. One activity really tested our creativity - a pre-cut challenge where we were given (3) 5-inch squares, (2) 2 1/2 inch strips, and (1) 10 inch square. The challenge was to make a block using only these materials and Studio 180 tools. Here are some of the blocks that came out of the challenge:
One last thing, and something to definitely look forward to, we were able to try out a brand new Studio 180 tool! We constructed a variety of test blocks using prototype tools and provided feedback to the Studio 180 team. I'll keep you posted on its development!
I was also really glad that Debbie Tucker was able to be there for the entire week, considering her very busy schedule. It was great to be able to share stories and ideas, meet her daughter Haley and sister-in-law Sue, and bare witness to her gift as a quilter.
Needless to say, we were kept very busy throughout the week. All I saw of Raleigh was out my hotel window - we all said we'd have to go back for the scenery! We even ate dinner at our sewing machines one night…
But, it wasn't all work. On the last day, a few instructors went out for a celebratory dinner. I just couldn't resist posting a photo of this beautiful martini we were treated to at the restaurant. A wonderful wrap-up to a fantastic week.
Throughout the week, the weather was gorgeous. I was consistently the only car in the parking lot with snow tires and a pair of winter boots in the back. Feeling like the odd one out all week, I was sure glad I was well equipped coming back into Canada. While I was away, 30cm of snow fell and the temperature dipped well below freezing. Goodbye sunny North Carolina weather...when is spring going to come to Sudbury?
Thanks for dropping by. Until next time, stay safe, keep your snow boots out, and keep on quilting.