Hello Friends. Sorry that I went missing for a while – Spring happened! April was a whirl wind of activity with workshops and classes. With me being on the road so much my eldest daughter offered to helped me out with my blog posts. I would dictate my post (while doing other things like packing or sometimes while I was driving and hands free of course), she would write it up, and then add the pictures. Let me tell you, this is like cooking and having someone else do the dishes (especially the pots! LOL). I got spoiled pretty fast and miss her help immensely. If you noticed she added her own touches to the posts and has left me now (bar raised) to continue.
Let me start off where I left off – at the last weekend of April.
On Saturday, April 30th, I had the pleasure, once again, to spend the day with the quilters of the Rayside Balfour Quilters Guild. The ladies were excited to take on the Northern Neighbours Quilt Pattern with the added bonus of familiarizing themselves with my three favourite Studio 180 tools in the process. The Wing Clipper for making flying geese units, the Corner Beam tool, and the Split Rects tool. We had great fun, along with all the little tips and tricks that go along with making the beautiful leaf blocks. Added in there the bonus tip of the many uses of coloured electrical tape. LOL You'll just have to join me to find out for yourself.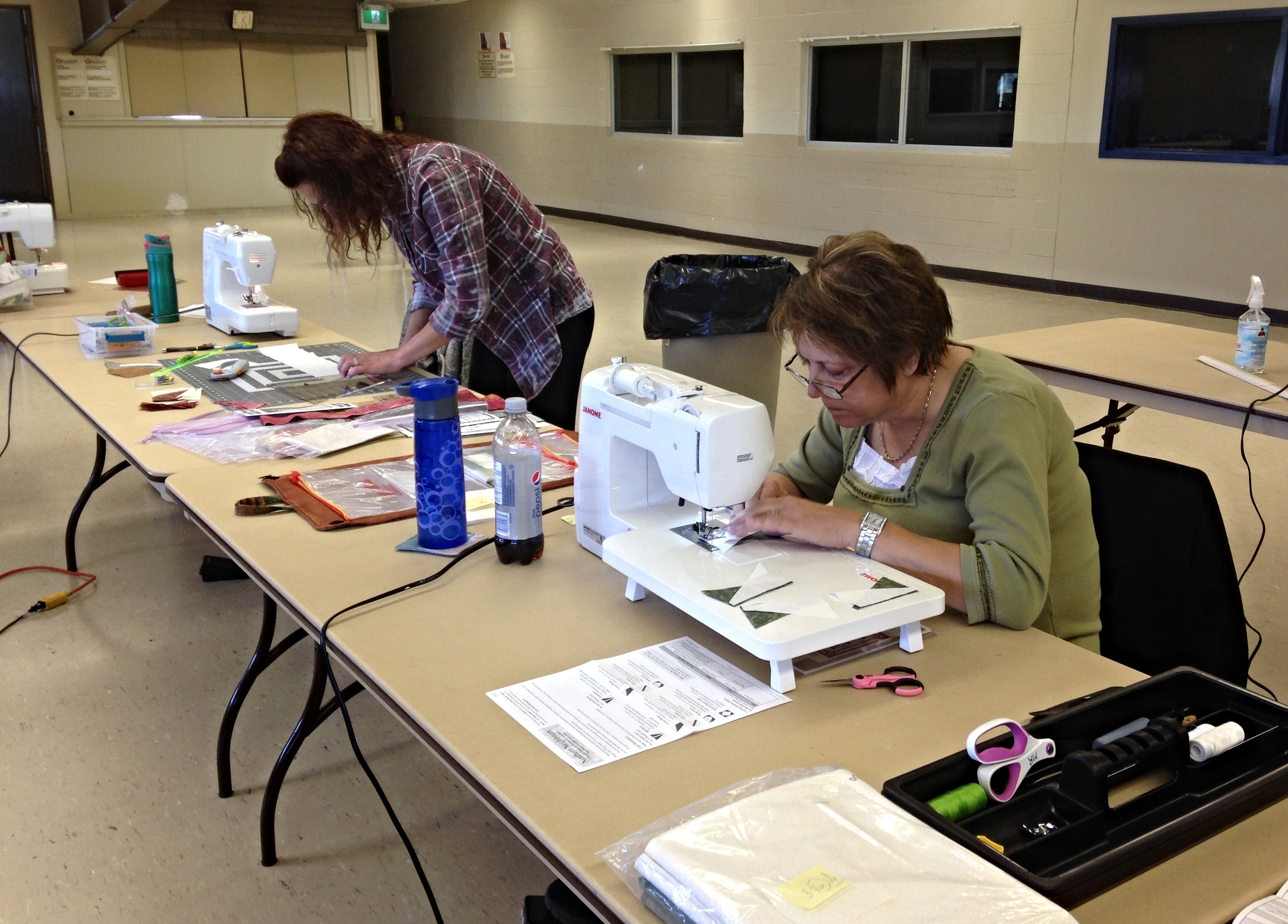 If you have any of these tools and have not yet used them, I highly suggest pulling them out of storage and giving them a go. The quilters were excited to learn that the Fons and Porter Magazine highlights a quilt pattern monthly that features a Studio 180 tool. As these tools grow in popularity, quilts patterns that use Tucker tools can be found in many of the other magazines as well.
Sunday, I was able to stay close to home and join the many quilters of the Sudbury and District Quilting and Stitchery Guild at their annual yearend workshop. We spent a few hours together doing some precise piecing while covering the Migrating Geese technique outlined in a Technique Sheet by Studio 180 designs. Everyone did a fine job with bands of geese flying north for the summer.
Always an added bonus, we got to see a completed project from a previous workshops! Monique Gascon brought along her Northern Neighbours quilt to share with the group. Make note of the fussy cut moose in the centre of the leaves!

Paulette Lajeunesse showed off her finished Northern Neighbours quilt as well. Way to go ladies! They all look so different even though they're all (technically) the same.
I am staying close to home for a few weeks, catching my breath and spending some time with the Hubby. He has been very busy while I've been away renovating my studio (that's a whole other blog post!). There's a few really good home cooked meals in his future as I just can't thank him enough for all that he does. The Studio is back up and running and open for business. Classes resumed this week and I'm available for full day workshops here in the studio this summer while the driving is free of snow. If you and a few friends would like to come and join in on the fun feel free to give me a shout and we can set up a time.
Thanks for dropping by. Until next time, stay safe, plant a flower and keep on quilting.