Hello Friends,
Last fall, I started a quilting group focused on mastering the six fundamental Studio 180 tools. We called it the FUNdamentals class and each meeting was filled with tips and tricks for both the novice and experienced quilter. There were two Fundamentals groups, one in Espanola at Cindy B's Quilt Shoppe and one at Country Quilter in Sudbury. Both were fantastic groups of women!
We worked through the Studio 180 fundamental tools, built units of all shapes and sized, and started to venture into quilt design. Becoming confident in these techniques opened doors to constructing the fundamental units of traditional quilts, including: half square triangles, combination units, flying geese, and square-in-a-square. After a bit of practice, we then worked with the grid method for designing quilt blocks, establishing the skills necessary to construct any common quilt block, in any size desired. And this is when we were able to start quilting without a pattern!
The journey was a learning experience for all, and I particularly enjoyed helping quilters become confident constructing units and jumping into the realm of quilt design. I love to see the spark of creativity light up the face of a quilter when she first realizes the unlimited possibility now open to her. The FUNdamentals groups met about every three weeks since November and wrapped up a couple short weeks ago. I'll miss our monthly get togethers but hope that I'll see the group in future classes!
The other workshop that recently wrapped up was Flying Swallows which was held last weekend at the Holiday Inn in Sudbury. Unlike the FUNdamentals class, this workshop was not for beginners. We tackled the difficult Flying Swallows block, conventionally constructed using templates or paper piecing methods.
Using Pam Goggans Flying Swallows quilt as inspiration and her innovative construction technique using the Studio 180 Rapid Fire Lemoyne Star tool, we created the three star points within each star point using a strip pieced method. The technique involves learning the key construction techniques for the Rapid Fire Lemoyne Star tool, which helped everyone feel confident that they could go home and construct all the possible Lemoyne Stars (there are six total) outlined by the technique sheets available through Studio 180.
After a bit of hard work, discussions on precise piecing techniques and complex design principles, we each had four Flying Swallows blocks to work with. Then, the creative juices started flowing! Since the Flying Swallows block is made in quadrants, it's easy to test out different layout options. To make things interesting, no one was given a predetermined layout and instead we experimented deconstructing the Flying Swallows block and formatting it to look totally different, developing unique and creative designs.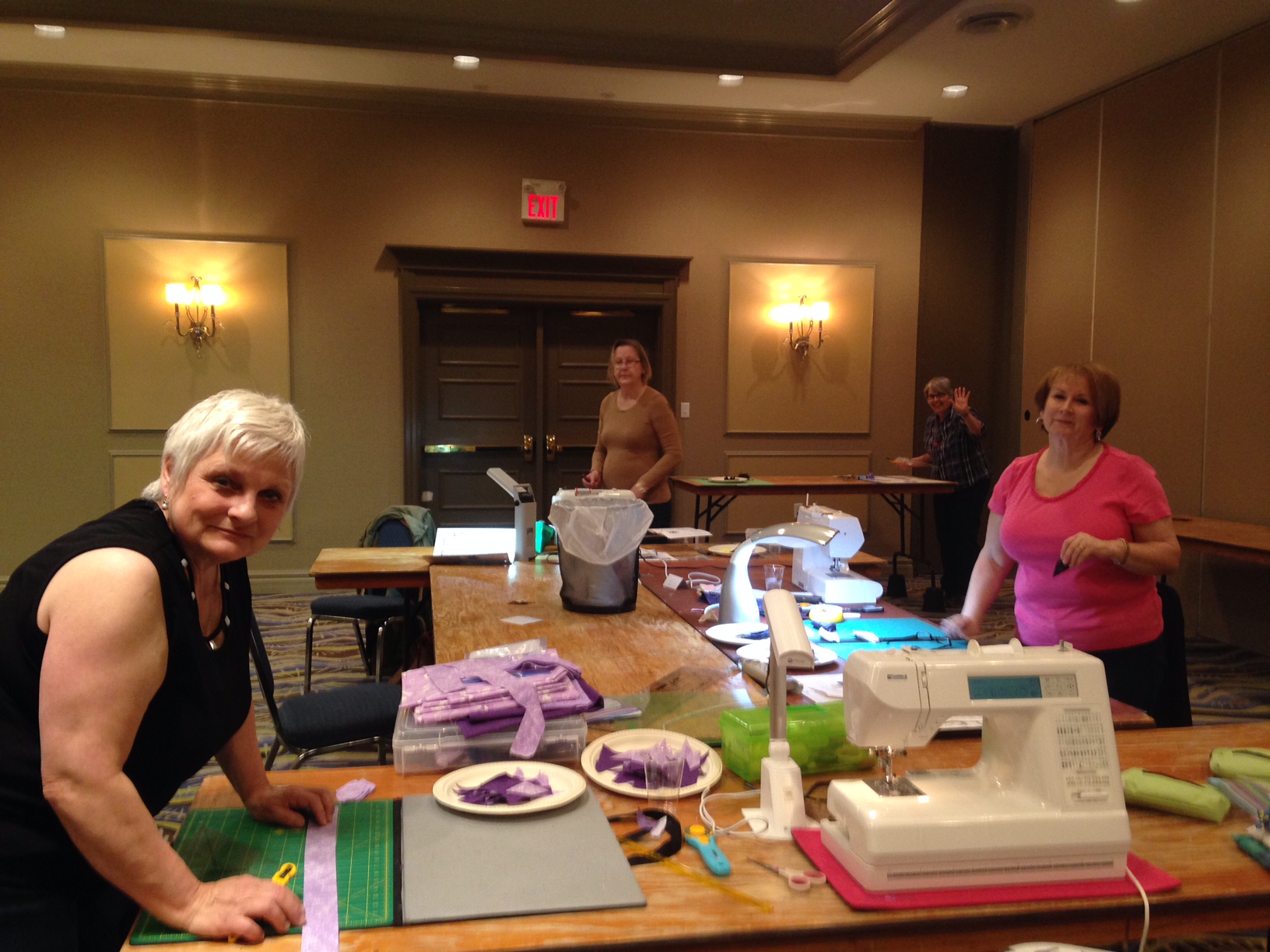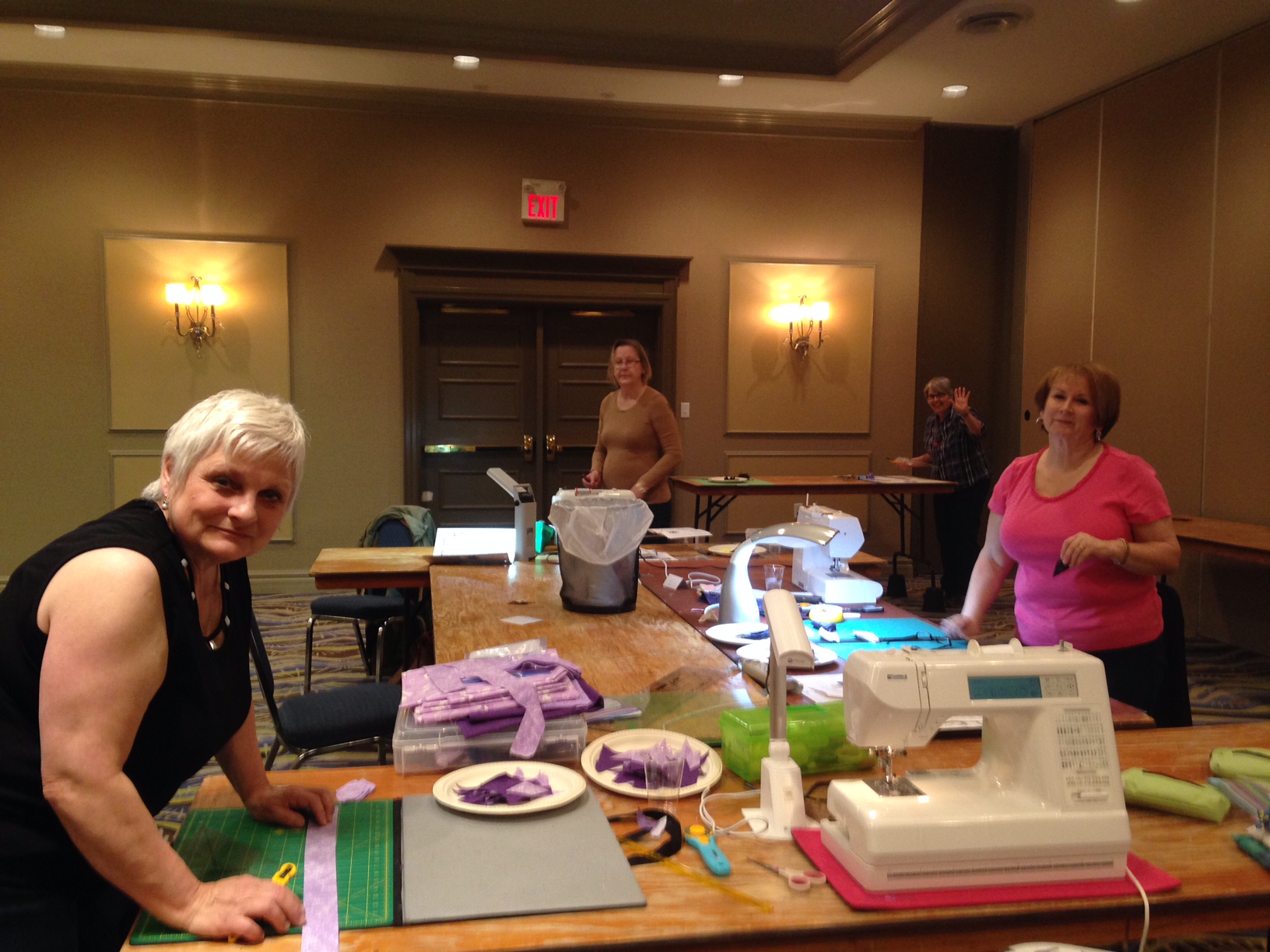 While most of the quilters were from Sudbury, we did have some out-of-towners join the group. Here's a shout out to the group from Sault Ste. Marie and Bonnie Orme, who came in from Collingwood. Thanks for making the trip ladies!
The Flying Swallows construction method was so successful that there are already finished projects pouring in. Anne sent me a picture of her beautiful blue and white table runner, done in a week!
After each workshop and class I run, I'm always thrilled to open my email and find a picture of a finished project. Seeing others work through the creative process and finish a project gives me much needed motivation to finish my own projects - we're all in the battle against UFOs together! It's also inspiring to see how different quilters approach colours, layouts, and quilt design more generally. Quilts are meant to be used, but their also meant to be admired! This is why I've decided to construct a new page on my website to feature completed projects from quilters who have taken my classes. A place to share design ideas, spark creativity, and sew inspiration (pun intended!), I hope this page will become one of your favourites! So, be sure to keep me updated on new blocks that you design and projects you finish. I'll let you know as soon as the page is complete.
Since I'm still in the planning stages, let me know what you think of my idea for a quilt gallery on the website in the comments below. That's all for now friends, thanks for dropping by. Until next time, stay safe and buy some tulip bulbs, spring IS coming!